Tel-A-Cross

Sisters of Holy Cross Newsletter - Spring 2021 Issue
Relaxing Space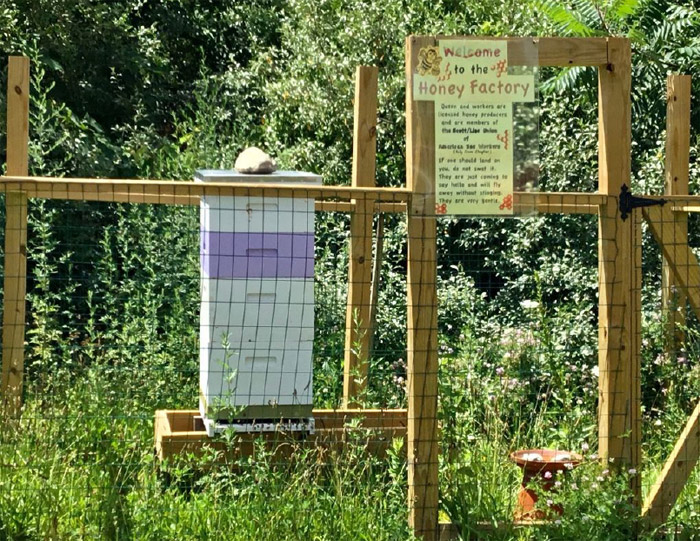 by Françoise DeMers, CSC
Three years ago, we made plans turn out our dirt parking lot into a green space for our sisters to enjoy. Well, here we are, 3 years later, with a small park hosting a myriad of colorful perennials, annuals and flowering bushes, a walkway adorned by red maple trees, bench-es, gliders and a large gazebo where the sisters can sit and enjoy the beauty of Nature, listen to the buzz of honey bees, admire the Monarch butterflies, the hum-mingbirds, cardinals, and smile at the antics of the wild rabbits that come to visit.
In back of the staff parking lot there was quite a large field; we didn't have to listen too carefully to hear it beckoning to us to do something there, too. And that is our newest project., in the spring of 2020, we were able to get a professional bee keeper to put a hive in the SW corner. (He will soon be adding a sec-ond one as the first one was so productive. To keep our bees busy and well fed, and supplying us with their golden nectar, (in our case...Holy Honey), we planted a band of wild meadow flowers along the South and West sides of the field and the plan is to keep adding more bands of flowers until most of the field is a joy-ous symphony of color singing praise to our Creator.
The sisters suggested that fruit trees would also be nice to have, so we now have 2 each of pear, peach and apple. Our goal is to plant 6 more in the next two years so as to have a little orchard.
While clearing out the brush along the field, there opened up a clearing among the trees and shrubs forming a little grotto...what a wonderful place for a bench and a statue! We were able to bring the statue of St. Anthony which was on the front lawn in Pittsfield. A perfect fit for our new "Secret Garden" among irises, lilies daisies, goldenrods and a host of other plants.
The small area between the hall and the Manor building is also under-going a makeover. The large gas tank will be surround-ed by a host of flowers. This year, thanks to the Early Childhood Center, we also planted a large red rose bush in front of the Virgin.
As you see, we have been busy taking care of all our pollinator friends, while making our surroundings pro-ductive as well as beautiful. If we are able to be good stewards of the land God has entrusted to us, it is due in large part to your continued generosity. To you, our dear friends, a heart felt thank you from the Sisters, as well as from the bees, butterflies, birds, woodland creatures that have taken up residence among us, and bring so much joy and peace to everyone.
Additional articles in this issue:
Haiti - My Home for 42 Years
2020 Jubilees
2021 Jubilees
In Loving Memory
Read More - Download Complete Issue
---
Previous Issues