Tel-A-Cross

Sisters of Holy Cross Newsletter - Winter/Spring 2020 Issue
25 Years Ago...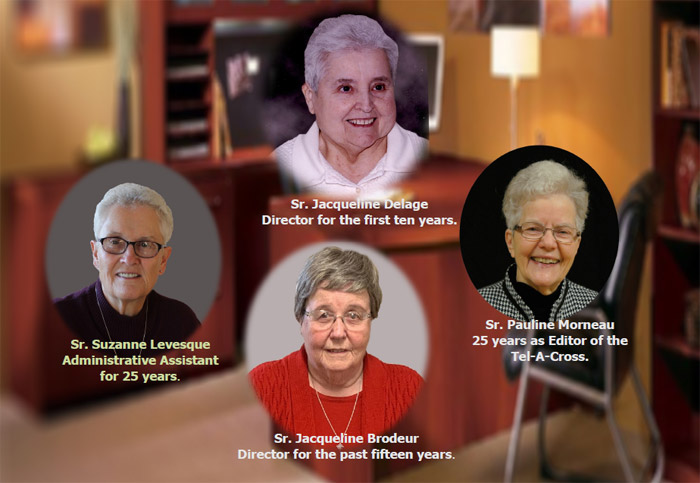 by Sr. Thérèse Martin, CSC
The Development Office of the Sisters of Holy Cross is 25 years old! It was opened by Sr. Jacqueline Delage who did an excellent job as its first Director for ten years; Sr. Jacqueline Brodeur followed wonderfully in her footsteps and has been Director for 15 years; Sr. Suzanne Levesque, its very capable Operations Assistant has been in the Development Office for 25 years and still counting! Yes, the Development Office is celebrating 25 years of existence.
But who are we celebrating today? Who has, in fact, made possible the success of the endeavor? To whom do we owe the results of so very many of our development projects this last quarter of a century? It is to YOU: you, the former students, the families, the friends of the Sisters of Holy Cross of the U.S. Sector! We are celebrating first and foremost today your kindness, your generosity, your faithfulness, your contributions, your sup-port your collaboration, your prayers, your gifts, your friendship, your loyalty, your goodness, your presence, and your love. We would like to "TELL ACROSS" the entire group, the many, many hundreds of wonderful people you are and how proud we are to know you and how grateful we are for the essential part you have played in our development.
The Development Office came to be 25 years ago, yes. But it did not simply "come out of the blue". The spark that ignited the fire of its crea-tion came from the heart and mind of Sr. Pauline Morneau. Fanning that flame were the generous leadership gifts of Sr. Lucille Cantin and her team. The mission was clear: finding ways to sustain a quality of life that would make meaningful mission still possible for those Sisters of Holy Cross transitioning into their elder years and needing new services and accommodations for this new phase of life. Through the years, the Development Office made appeals in line with particular projects very much connected to its mission. And when it did, it is YOU, our former students, families and friends who furnished the logs that helped keep that fire of mission burning bright in our elder years. Have you seen our beautiful green space; the chairs in our chapel; the new roof and windows at the Health Center; the elevator at the back entrance of the Manor; the now handicap-accessible front en-trance; the minibus: etc. etc.?
And for 25 years, we have continued thanking God for you, staying in touch with you, praying for your intentions, offering a special Mass each month for all of you. We have continued to "TELL ACROSS" the entire Holy Cross Congregation of your goodness and great generosity. Today, through this Silver Jubilee of "Tel-A-Cross" we celebrate with you these 25 years of mission of the Development Office and thank the Giver of all Good Gifts for calling us together, to do this "Work of Resurrection".
Additional articles in this issue:
In Loving Memory
Sisters of Holy Cross Commit to Offset Climate Change
Life Beyond the 80's
Read More - Download Complete Issue
---
Previous Issues