Associates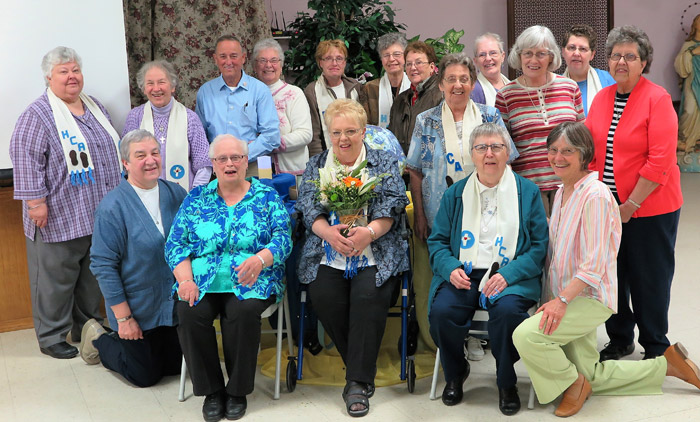 Who We Are
A faith Community of lay men and women like you, who desire to give concrete expression to the Baptismal call they have received to live the Gospel values in the Spirit and Charism of the Congregation of Holy Cross.
Philosophy
The Associate Members of the Sisters of Holy Cross are men and women striving to give concrete expression to their call to live their Christian faith more deeply. To achieve this goal, they commit themselves to live the Gospel values in the spirit of the Congregation of Holy Cross.
This commitment is made after completing an orientation period, during which time the prospective Associates are introduced to various aspects of:
Gospel Values
Holy Cross Spirituality
Holy Cross mission in the Church
The commitment is a simple promise to God through the Congregation which is renewed each year upon the agreement of both parties. The Holy Cross community offers moral support and the means for personal growth.
Mission Statement
Aware of our calling by the Holy Spirit to live the life of Jesus Christ more fully, we, the Associate members of Holy Cross, commit ourselves to live out our Christian vocation in the spirit of our founder, Blessed Basile Moreau and Holy Cross.
In keeping with the Charism of the sisters of Holy Cross, we, the Associate members, are called to:
Deepen our Christian Life by sharing in the prayer life and spirit of Holy Cross;
Witness the Gospel values in our daily lives;
Share with the Congregation the insights gained from living the gospel values as married or single persons;
Share in the apostolic endeavors of Holy Cross and the Church.
Current Members
Presently there are over 42 members who meet monthly in various regional groups to pray and share their lived experience together. Members are located in Manchester, Rochester, and Franklin, NH as well as in Groton, CT and Vermont.
Learn More
For more information on becoming an Associate, please contact:
Lorraine Richard, HCA
tanteraine@comcast.net