Earth Beats
Earth and Environment Commission Newsletter - March 2018
In this issue:
Rays of Hope
Our Challenges and Opportunities for Reflection
Encouraging News
Heartbreaking News about DACA
"Inform, do not frighten."
Rays of Hope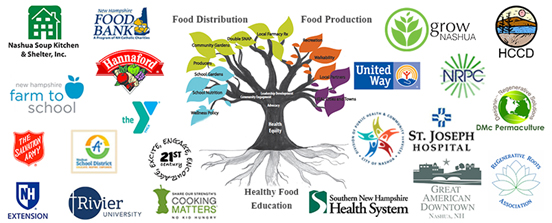 Individuals from various organizations in Nashua are working together to increase nutrition consciousness, cooking and gardening skills, farmers markets, and general access to heathy, local foods. Thanks to UNH's Sustainability Institute and NH Farm to School, an active Food Council in Nashua is emerging to rebuild the vitality of the local food system. Its five-year goal is "to reweave the way that we locally secure the most nutrient dense produce for our schools, hospitals, grocery stores, and restaurants. Such accessibility and practices will enhance human well-being, economic vitality, and the ecological health and resilience of our diverse community."
Note the participation by local Catholic institutions such as Rivier University, the New Hampshire Food Bank, and St. Joseph Hospital. Particular credit also goes to the organizing skills and vision of Justin Munroe, Executive Director of GrowNashua.org. (Justin is a 1980 graduate of Infant Jesus School, a Holy Cross School in Nashua, NH!) For more information, go to the www.GrowNashua.org in the section titled Programs.
Submitted by:
Edith Couchman, Art and Environmental Ed Teacher at Infant Jesus School
Read more - Download Complete Issue
---
Previous Issues