E-Current

Issue 112 - April 30, 2019
ENTERING THE NOVITIATE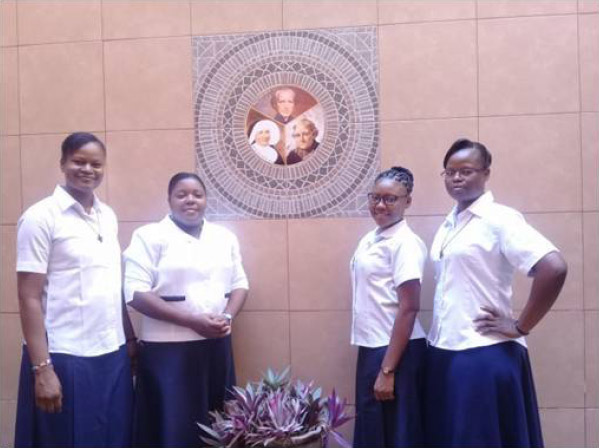 On March 3, 2019, four women made a new step in Holy Cross by entering the novitiate in Lima, Peru: Wide Guerlande Jean from Haiti, and from Burkina Faso, Béatrice Tounwendinda Ilboudo, Matilde Wenwaoga Compaoré, and Roseline Gueswendé Nikièma. This day was first preceded by two days of retreat animated by Sister Agnes to help prepare us to enter the desert, like Jesus after his baptism. On the afternoon of March 3, the communities of Luz de María, Pueblo Libre and the sisters of the novitiate were witness to a simple ceremony in the novitiate chapel that concluded with the sharing of a meal. We thank you for your presence and prayers. During the ceremony, Sister Celine Martel did not hesitate to ask us to be witnesses of the Risen One, and Sister Hermelinda, on behalf of the Congregation, welcomed us with meaningful blessings and wishes.
Below are the wishes expressed by the novices:
Self-knowledge
Personal growth in freedom
Knowledge of Jesus and a deepening of the relationship with Him
Availability and abandonment
Knowledge of Holy Cross
Knowledge of Basil Moreau
Knowledge of the sisters, their rules, their life
Recognition of the voice of God and responding to it
Integration and sharing with the people
Good witnessing by the sisters
Accompaniment
In the end, we await the grace of God for the realization of this project.
We ask for prayer and assistance.
Thank you very much,
The novices
Click the button below to continue reading and view photos.
---
Previous Issues